High-Elongation Strain Measurement – Pushing a Strain Gage and Adhesive to Their Limits
We recently received an inquiry from a customer who needed to measure strain up to 5% (50,000 με), yet they were only able to achieve 0.9% (9,000 με).  During a visit at the customer's site, a Micro-Measurements Technical Sales Manager and Applications Engineer helped the customer solve the problem; here is what was done.
The scaling of the data system was verified.A Micro-Measurements VE-40 Strain Gage Simulator was set to a resistance equivalent to the output of a strain gage at 50,000 με.This proved that the data system and software being used was scaled properly for the high strain measurement.

The CEA-06-250UW-350 strain gage is capable of measuring up to 50,000 με, but achieving that performance requires the use of a strain gage adhesive that is also capable of 50,000 με.In this case, the customer was using M-Bond 200 Adhesive with a strain range up to 3% (30,000 με).A recommendation was made to use M-Bond AE-10 Adhesive, which has a room-temperature strain range of 6% (60,000 με) to 10% (100,000 με).

A recommendation was made to:
 Utilize a separate terminal for the heavy instrumentation lead wires, and to use a fine wire (134-AWP) between the terminals and the strain gage.  Also, the fine wire was routed in a curve to decouple the wire from strain.
Keep solder connections on the strain gage and terminal as small as possible.
The image below shows the installation with all of the recommendations applied.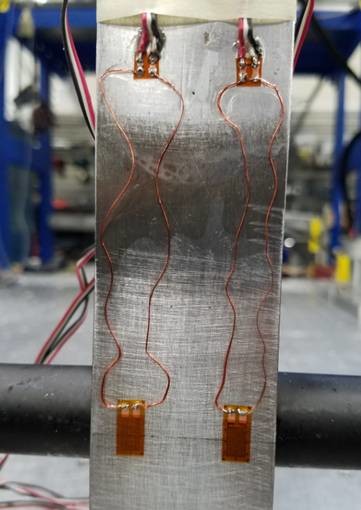 As a result of using the correct adhesive and correct wiring techniques, the customer was able to achieve the required measurements to 5% repeatably.
In the future, the customer stated a need to measure strain to 10% (100,000 με).  For this requirement, the following Micro-Measurements gages and adhesives were recommended:
                EP-08-250BG-120 , capable of 20% (200,000 με) elongation
                M-Bond A-12 Adhesive, capable of 20% (200,000 με) elongation
A complete guide to installing strain gages for high-elongation strain measurements is available in the form of Micro-Measurements Tech Tip TT-605 High-Elongation Strain Measurements.