A Short History of (Micro) Measurements Group
A company, like each of its people, has a past and a future all its own. The early days of Micro-Measurements (MM) are traced in the story below. A lot of history (that can be found on the Vishay Precision Group hall of fame) has led to the position of leadership held by MM today. As Micro-Measurements grows and progresses in two main fields –  Experimental Stress Analysis and Transducer Class sensors built on Advanced Sensors Technology – that history continues to grow, fueled by the current employees located around the globe.
Micro-Measurements products have contributed too much of the technological progress and innovations made during the course of its history. The pace of growth during the 21st century in a variety of market segments, such as space exploration, medical, oil and gas, and transportation, has been nothing short of phenomenal.
There have been challenging times during the past twenty years and certainly for the last several months (COVID-19 Pandemic crisis), but also some very good times. Beginning with the opening of our Advanced Sensors Technology facility in early 2008, important additions have been made to the foundations of our strain gages, accessories, instruments, applications, and last but not least people, on which the Micro-Measurements brand is built. There is no doubt that new, successful chapters in the VPG Micro-Measurements' story will be written in the coming years. New applications for our technologies are being found almost every week. New levels of quality and efficiency are being reached. New products are being developed.
Micro-Measurements has recently celebrated its 40-year anniversary in our current facility in Wendell, NC (opened in 1979), and we thought it would be interesting to provide a brief review of how we became the company we are today.
Beginning in the mid-1950s, a number of people, familiar to only a few of us, found their career paths crossing while employed by the Budd Company, or several of its divisions like Tatnall Measuring Systems. The Budd Company, a large manufacturer of transportation equipment, had other divisions in Phoenixville, Pennsylvania area (a small town near Philadelphia) working in the field of experimental stress analysis. Among its employees were Frank Tatnall, Dr. Felix Zandman, Jim Starr, Alex Redner, Joe Hastings, John Byrne, Don Spohn, Jack Clark, Jack Belcher, Wayne Nickola, Bill Walker, Russ Strable, Dave Thomas, Gordon Dotterer, and Horace Rennard. As so often occurs, each of these individuals followed very different career paths, but one area of commonality exists. They eventually associated with Micro-Measurements. 
Let us now look at the key events, which directly led to the formation of Micro-Measurements, as we know it today. (Please excuse any omissions, as this blog article is not intended to be a detailed historical account.)
In 1960, Jim Starr joined Allegany Instruments Company in Cumberland, Maryland, working with the strain gage operation. While there, he met Ra Fridley, a fellow employee at Allegany.
In 1962, three significant events took place at different times during the year.
(1) Jim Starr formed a new strain gage manufacturing company, named Micro-Measurements, Inc. in Belleville, Michigan.
(2) Dr. Felix Zandman started Vishay Instruments, Inc. , in Malvern, Pennsylvania, as a precision foil resistor and photomask manufacturer
(3) Alex Redner opened Photolastic, Inc., a company specializing in the field of photoelasticity, in Paoli, Pennsylvania.
In its early days, Micro-Measurements limited itself to the manufacture of strain gages, which were sold through the W.T. Bean Company. At the time, Bob Whitehead was with W. T. Bean, and he joined M-M later when it established its own marketing and sales department.
Over time, these independent companies grew at different rates, and moved to newer and larger facilities; Vishay on the same site in Malvern; Micro-Measurements to Romulus, Michigan, and Photolastic to a new site in Malvern, Pennsylvania. In 1966, Micro-Measurements and Vishay merged into a new company called Vishay Intertechnology, Inc. The new company operated separate, autonomous divisions – Micro-Measurements, and Vishay Resistor Products. A year later, in 1967, Vishay Intertechnology acquired Photolastic, Inc., as a wholly owned subsidiary, while all this was happening, the Budd Company decided to divest itself of the experimental stress analysis business. It sold its Photostress, strain gage and instruments line to Automation Industries. Later, Automation Industries sold the PhotoStress® line (which was Dr. Zandman's invention) to a small company called Chapman Laboratories.
In 1969, Vishay decided to start another division in its Malvern facility to manufacture strain gage instrumentation. The first step in getting the new Instrument Division started was a merger with Ellis Associates, owned and operated by Greer Ellis in Pelham, New York. This marriage produced the V/E (Vishay-Ellis) series of instrumentation that are still sold today. Then the Instrument Division was further strengthened in 1970 with the purchase of the strain gage instruments product line from Automation Industries.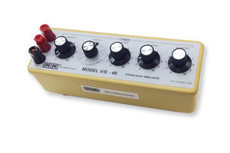 It was also in 1969 that Vishay formed the Educational Products Division, headed by Dr. C. C. Perry in Inkster, Michigan. This division was transferred to Malvern in 1972, and was renamed Vishay Research and Education Division.
Also during this period (January of 1971 to be exact), Jim Dorsey joined Micro-Measurements from BLH to apply his strain gage expertise to M-M's expanding R & D programs.
In late 1973, Vishay decided to consolidate its various stress analysis divisions and subsidiaries into a single entity, which was named the Measurements Group. The new Measurements Group organization included: Micro-Measurements in Romulus, Photolastic, Vishay Instruments, and Vishay Research and Education Divisions in Malvern, along with sales offices in Munich, West Germany and Tel-Aviv, Israel. Jim Starr was named President of the group, Tom Corby Vice-President of the Malvern operation, and Hank Landau was appointed Group Controller.
During the next few years, many of the divisional functions in the Malvern operations were consolidated, and a couple of other changes occurred. Photolastic acquired the assets of the PhotoStress® line (including trademark rights) from a company that bought them from Chapmen Laboratories. This finally transferred trademark and patent rights of Dr. Zandman's PhotoStress® inventions to Vishay.
In the late 1970s a decision was made to further consolidate the Measurements Group by moving the headquarters for all divisions to a single location. Eastern Wake County was the selected location, and in late 1977 a temporary strain gage production facility was opened in Wendell at the old Monk-Henderson tobacco warehouse building, which was completely refurbished inside for this type of work. In late 1978, the first instruments were assembled on the second floor of this temporary production facility. Finally, in several phases during the spring of 1979, our current Measurements Group headquarters facility was occupied.
As the new plant began operating, the Malvern operations of the Measurements Group were closed, and the Romulus operation was converted to a production-only facility. (Having two physically separate strain gage production facilities has long been an important objective for Micro-Measurements, because of certain needs by our strain gage customers).
In 1982, the Measurements Group divisions were incorporated into an autonomous legal entity Measurements Group, Inc.) as a wholly owned subsidiary of Vishay Intertechnology, Inc.
In 2002 Vishay Intertechnology, Inc. acquired Sensortronics (JP Technologies) and its holdings as they worked to build what is now VPG Transducers.  (*)
In 2017 Micro-Measurements announced successful integration of Advanced Sensors Technology into strain gage products. Advanced Sensors Technology applies tangible specification and manufacturing process improvements, along with industry-exclusive strain gage sensor design techniques, for direct customer benefit. The innovation behind Advanced Sensors Technology reflects many decades of Micro-Measurements R & D experience, gained across a global portfolio of thousands of successful applications, with other refinements achieved via ongoing customer feedback. 
(*) JP Technologies, Inc.:
In 1979 Precision Foil Technology (PFT) was founded by John and Patricia Hall.  It was located in Upland, CA, and specialized in strain gage production for the OEM transducer / load cell market.  In 1982, John Hall purchased the strain gage manufacturing division of Magnaflux Corporation in Chicago, IL, relocated the operations to a building adjacent to the PFT facility, and began manufacturing stress analysis strain gages under the name of Micro Engineering II (ME2) with rights to continue to use the Maganafux logo.
In 1984 Precision Foil Technology and Micro Engineering II were consolidated into a single company and renamed JP Technologies, Inc. (JPT).  Later that year JPT purchased the strain gage assets of the Dentronics Corporation from the Magnetic Head Corporation and began manufacturing Platinum Tungsten high gage factor strain gages, Platinum RTDs and Iron Chromium Aluminum alloy high temperature strain gages.
In 1985 JPT purchased the assets of the William T. Bean Company, a world renowned manufacturer of strain gage applications accessories developed by one of the original strain gage pioneers William (Bill) Bean.
In 1995 JP Technologies was sold to the TT Group, a UK based company.  The JPT manufacturing operations moved from Upland, CA, to San Bernardino, CA to consolidate manufacturing from four small buildings into one modern facility.
In 1997, TT Group sold JP Technologies to Sensortronics, Inc. a leader in the load cell industry and JPTs largest customer.  JPT continued to operate autonomously under the Sensortronics ownership until 2002 when Vishay Intertechnology, Inc. acquired Sensortronics and its holdings as they worked to build what is now VPG Transducers.  The manufacturing assets of JP Technologies were consolidated into the Micro-Measurements manufacturing facility in Wendell, NC, enhancing the product line and custom product manufacturing capabilities.