Since 1999, Micro-Measurements has been manufacturing strain gages with the sensing foil made of 92% platinum / 8% tungsten. This unique strain gage series offers a strain sensitivity (gage factor) more than double all other foil strain gage types. This feature is particularly useful in fatigue-rated load cells since strain levels can be reduced while still providing a standard 2 mv/V output. It is also helpful in dynamic (impact) transducers since normal transducer deflections can be reduced and dynamic response improved, while maintaining standard signal levels. Available patterns can be viewed at http://www.vishaypg.com/docs/11563/plattung.pdf.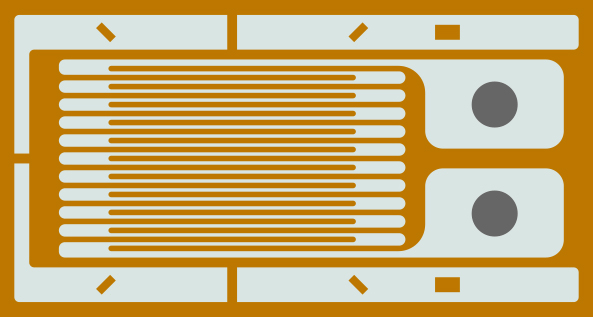 Pt-W  (P-T) gages are supplied with flexible polyimide backings, full encapsulation, and preformed solder dots. Fiber-reinforced backings are also available upon request.
While Pt-W strain gages might sound ideal for transducers, they do have some shortcomings:
Pt-W gages have high thermal sensitivity. This makes static measurements extremely difficult, even in full-bridge circuits.

Pt-W gages have a limited linear strain range and cannot be used for high strain measurements.
However, even with these limitations there are applications where no other strain gage type will suffice.