Photoelasticity … A Mouthful, But A Fascinating Stress Analysis Tool To Design a Transducer.
The ideal structure is one where all components – no matter the loads they are subjected – will eventually wear out at the same time. When a single part fails before its companion, it has been less than perfectly structured: one part has been under-designed or the other overdesigned.
The main objective of this article is to provide ideas that enable us to optimize the design of parts, load cells and structures.
We are continually devising new, sophisticated stress analysis techniques and devices so that engineering design can incorporate money-saving, material-saving, and energy-saving features, as well as durability in the finished products.
Contrary to popular belief, science, art and technology are not mutually exclusive, but often complement each other in exploring the secrets of the stressed universe.
Photoelasticity, in its various forms, is a powerful technique that enables engineers and scientists to see the stress that occurs in parts and structures. When using this method, stresses are observed as brilliant bands of color through an instrument known as a polariscope.
The principle of photoelasticity was first discovered more than 140 years ago in England when it was observed that stressed glass, when viewed in polarized light, showed beautiful color patterns. However, it was not until the past 40 years or so that the method began to be widely used in our daily life. Early applications were restricted to the study of simple scale models built to simulate a real part or structure. These models, made of transparent photoelastic plastic material, were illuminated with polarized light from a polariscope; and the colorful stress patterns were then seen at the model's weakest points.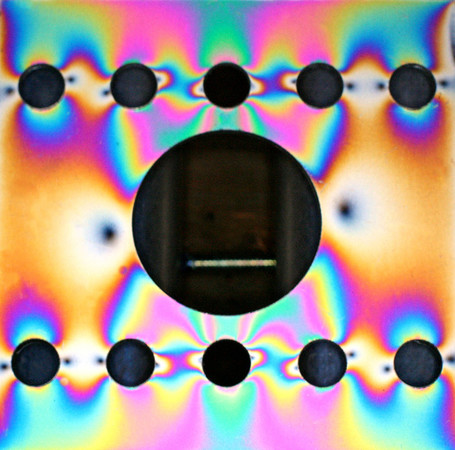 Then in 1953, and advanced method called PhotoStress® was introduced in France by a scientist named Dr. Felix Zandman, the founder of Vishay Intertechnology, Inc. and Vishay Precision Group (VPG). With PhotoStress, a thin layer of the photoelastic plastic is bonded to the surface of actual parts or structures which can be of any material, shape or size. The photoelastic coating is then viewed with a reflection-type polariscope which reveals the pretty rainbow stress patterns. It was only after development of PhotoStress method that the general use of photoelasticity increased around the world by leaps and bounds.
Dr. Felix Zandman Explains What is PhotoStress® Analysis. (Podcast)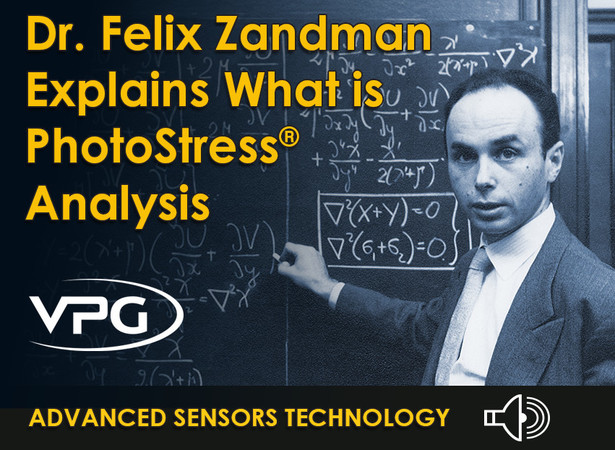 Today, photoelastic techniques in parallels to foil Advanced Sensors Technology strain gages are used by hundreds of different industries to study the stresses on automotive, fitness equipment, agricultural equipment, silos, working tools, mining, aircraft, and marine equipment, along with appliances, motorcycles parts, industrial machinery, PCBA (Printed Circuit Board Assembly), electronic scales, robots, IOT devices, tablets, smart watches, bridges, roads, building, towers dams and similar structures, to name a few.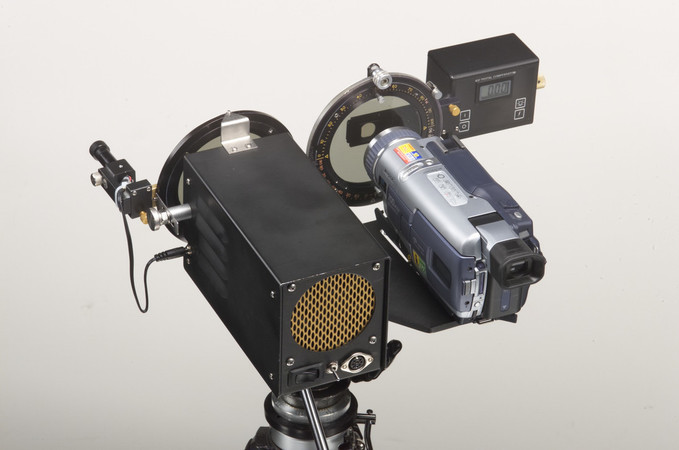 Optical Strain Measurement (Photoelastic Experiments)
Photoelasticity vs. Photostress  
Dynamic Stress Analysis (Stroboscopic Effect)   
Although there is a lot of involved mathematics behind the concepts of photoelasticity, the method can be successfully used by the beginner who has been trained to interpret the visible stress pattern even before he or she completely understands the theory.
Micro-Measurements, a VPG brand, is pleased to announce its partnership with Stress-Tek, Inc. This new alliance combines the application strength of Stress-Tek with the strain gage technology experts from Micro-Measurements. Unprecedented capabilities are now available for solving the most difficult foil strain gage bonding and foil strain gage based transducer projects expediently, efficiently, and within budget.
Strain Gage and PhotoStress Technologies.
The two most widely used techniques for experimental stress analysis and transducer design are the foil strain gages and PhotoStress methods. The bonded resistance strain gage sensor represents the more versatile and widely applied method. The modern strain gage sensor built with Advanced Sensors Technology consists of resistance grid of strain sensitive metal foil bonded to a backing material. This type of gage, which is thinner than a postage stamp, is adhesively bonded to the surface of a test specimen and electrically connected to a measuring instrument. Strains produced on the surface of the test specimen under load are transmitted to the strain gage. These strains cause a proportional change in grid resistance which is precisely measured by a strain gage sensor recording instrument.
The PhotoStress method of photoelasticity is a visual, full-field technique for determining stresses. In the Photostress method, coating of photoelastic materials are applied directly to the surface of the test specimens. Strains produced on the surface of the specimen under load are transmitted to the coating. Observation and measurement of the fringe patterns produced in the coating are performed with reflection polariscopic.
Stress-Tek began in 1978 as a consulting service for stress analysis, using a combination of photoelastic and strain gage technologies to help solve customer problems. They grew into the custom weighing market, creating the Vulcan On-Board scale product line for truck weighing. Stress-Tek is unique in that they can provide the complete spectrum of transducer services, from design to final packaging. Their design capabilities include the use of PhotoStress coatings and 2-dimensional photoelastic models, which makes the actual stress/strain patterns and gradients in a structure visible. This is, of course, a tremendous aid for choosing the strain gage locations, the gage size and the optimal gage geometry. Visualization of the response to applied loads also aids optimizing the structure for lowest weight and efficient production. Areas of excess material, as well as stress concentrations can easily be seen using these photoelastic techniques.
Together, Micro-Measurements and Stress-Tek offer turn-key solutions to practically any weighing or force measurement application. This includes an initial assessment, specifying the strain gages, the adhesive system and the wiring requirements, and designing an appropriate and cost-efficient transducer or force sensor to suit a particular requirement.